Website Search Engine: Why Power Search
Your customers will find what they are looking for faster and easier than ever with the SearchFit Power Search website search engine. By improving your website search, you can enjoy a higher conversion rate, larger order value and more repeat customers. Customers can explore your inventory at blazing fast speed with all the tools they need to quickly sort and drill down to the products they need. View a list of website search features offered by Power Search. Try a website search demo to see Power Search in action. Start increasing your search conversion rate today.
Increase Your Conversion Rate and Average Order Value
Offer your customers a search tool that is lightning fast, gives relevant results and easy –to-use navigation and you will be pleased with the results. In just fractions of a second after a customer clicks the "Search" button, the website search engine has already searched through hundreds of thousands of products and displayed the results. After searching, the customer is presented with an intuitive search navigation that lets her drill down to view products by price, brand, category or an unlimited amount of custom filters which you may define. Huge inventories can be explored in no time at all. Customers can find what they are looking for faster and easier, which helps increase your conversion rate. They will also be able to find more of what they are looking for, which leads to a larger average order value.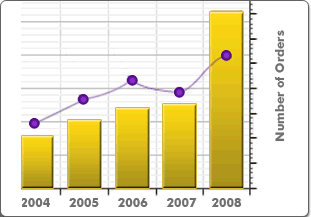 Easy to Setup and Maintain
Delivering your data to Power Search is a simple, automated process. Just export your website data in CSV format and upload to a set location. Our development team can assist you with this process. SearchFit Ecommerce users may skip this step because the system delivers data automatically. Power Search will automatically update its database according to the interval you specify. A variety of settings allow you to customize Power Search including items per page, filter item layout, search results layout and more. Your website template easily be converted to Power Search. A highly flexible template system is available. Web designers can code in HTML and CSS, then mix in a few Power Search key words for the finished product. No backend/PHP coding is necessary to setup your templates.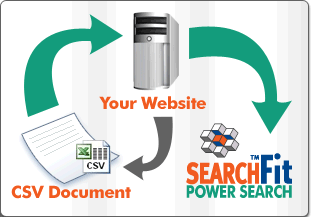 Improve Your Site Using Information from Search Reports
Gain valuable information from your website visitors. View reports showing most empty searches, most popular searches, most recent searches and more. Use the data to help with decision making related to your site structure and inventory. Make adjustments to ensure that empty searches are minimized and products related to popular searches are properly showcased throughout your website. Google Analytics users can gather even more data by installing Google Analytics on their Power Search sites. With Google Analytics Search Reports enabled, you can view reports about visitors who used your site search. Create custom Google Analytics reports such as conversion rate, average order value and several other metrics which categorize those visitors who did and did not use your search.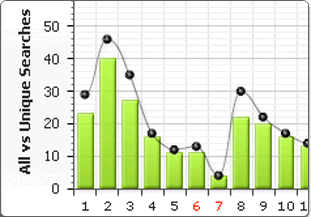 Offered by the RWG Marketing Group
You can rely on Power Search to be built on a solid foundation of knowledge and experience. The RWG Marketing Group is the parent company of Power Search and offers over 12 years experience with selling online, domain name registration, search engine marketing and advanced web applications, such as the SearchFit Ecommerce Platform. Since we use Power Search on our own sites, you can bet that we are interested in making it the best possible product and performing continual improvements. We understand how important Power Search is to your website and you can rely on us for any type of marketing or website support you need to take your online presence to the next level. Make the RWG Marketing Group part of your site's team.